Finally I have become member of the great Yakezie network with my other blog, One Cent at a Time. It's time to grow Finance Product Reviews with yakezie now.
I joined Yakezie challenge today with an Alexa ranking of 1.9M.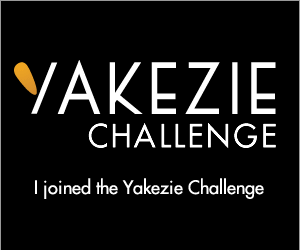 About Yakezie:
The Yakezie is the web's largest personal finance and lifestyle blog network.  Started in December of 2009, and have since grown to become a thriving community eager to help others.  We strive to optimize reader's personal finances and allow people to lead better lives.  We are over 80 Members strong community of bloggers with individual voices, individual owners and different opinions who have all gone through a 6-month Challenge to join the network.  Only the finest blogs who we have developed relationships with others in the network are admitted to become members of the network.
I hope to complete the challenge in 6 months and maintain same cordial relationship with fellow Yakezie members and challengers.
Also hoping that my honest reviews on the products I am using would benefit network members and their readers.
Thank you for reading this article. If you like my blog, consider subscribing to Finance Product Reviews via RSS or email. You can also subscribe via Facebook or Twitter by clicking on those icons on the top. Thank you!
Disclaimer: Finance Product Reviews is an independent website. Although we may have advertisement relationship with financial institution we review, they do not influence our decision or rating of products. Contents of this site are not provided by any financial institution, banks, brokerages or credit card issuers. Opinions expressed here are author's alone and are not reviewed, approved or otherwise endorsed by the product owners.
Disclosure of Material Connection: Some of the links in this web site are "affiliate links." This means if you click on the link and purchase the item, I will receive an affiliate commission. Regardless, I only recommend products or services I use personally and believe will add value to my readers. I am disclosing this in accordance with the Federal Trade Commission's
16 CFR, Part 255
: "Guides Concerning the Use of Endorsements and Testimonials in Advertising."